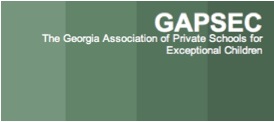 The Georgia Association of Private Schools for Exceptional Children ("GAPSEC") and the Georgia GOAL Scholarship Program ("GOAL") have entered into an agreement that permits individuals and corporations who contribute to the GISA-GOAL Fund to designate that their contributions be used to provide GOAL Scholarships to students who desire to attend any GAPSEC member school that is eligible to accept students under Georgia's Education Expense Credit law.
Presently, the private schools participating in the GAPSEC-GOAL Fund include:
Brandon Hall School
The Cottage School
Cumberland Academy of Georgia
The Howard School
The Lionheart School
Mill Springs Academy
Sophia Academy
The Swift School
GAPSEC serves as a coordinating organization of independent and private schools that have a primary mission or have within their mission a distinct special program that focuses on students with learning disabilities, issues, and differences. Meeting at least annually, members gather to discuss common professional issues, to establish and help maintain a code of ethics, and to share information regarding programs in member schools. As a recognized affiliate of GISA (Georgia Independent School Association) and the recognized special education organization for the Georgia Private Education Council, GAPSEC also serves as a spokes group with the State Department of Education regarding the Georgia Special Needs Scholarship and other special education issues in Georgia.