The 2013 Qualified Education Expense Credit Cap of $58 million was reached on May 9, 2013.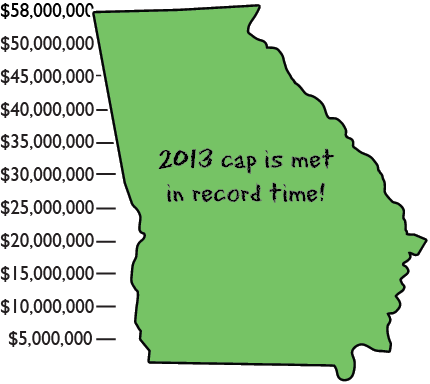 Make your GOAL payment: Pay Online
---
Featured GOAL School of the Week
If you are a Bethesda Academy supporter, please send GOAL a greeting to inform us that you have visited our website this week. By doing so, you may help your school qualify for receipt of the GOAL School of the Year Award presented each year to the school that has done the best job building a "culture of GOAL."
Founded in Savannah in 1740, Bethesda Academy is a private boarding and day school for young men in grades six through twelve. Our mission is to provide young men a transformative second chance at success by promoting and instilling a love of God, a love of learning and a strong work ethic. We inspire young men to become motivated learners and are committed to helping every student become college-ready by graduation. With our proficiency-based curriculum, we celebrate students who are motivated to accelerate their academic program and help students slow down their program when they encounter learning gaps. As a result, 95% of our students graduate on time and 85% proceed to college, with the others choosing to serve our country through the military or enter the workforce.
Our spectacular 650-acre campus serves as a living classroom, offering endless hands-on learning opportunities through our successful work-study program. Our students love to get their hands dirty, whether they're harvesting crops in the organic garden, raising cattle on the farm, monitoring water quality in the marsh or working with our quail operation. At Bethesda Academy, instruction may take place on a laptop, within a classroom, in a greenhouse, or while milking our herd of dwarf Nigerian Goats. We treasure diversity and realize many students need individualized instruction to help them succeed.
Approximately half of Bethesda Academy's students qualify and receive GOAL Scholarship as part of their financial aid package. Thank you for supporting Bethesda through GOAL!
Georgia GOAL Scholarship Program
The Georgia GOAL Scholarship Program provides children throughout the Peach State with Greater Opportunities for Access to Learning ("GOAL"). We invite you to discover how, as a qualified student scholarship organization, GOAL is providing scholarships to students across Georgia to attend the private K-12 schools of their parents' choice. As the leading SSO in Georgia, in partnership with 123 participating schools, GOAL is setting the gold standard for scholarship administration. Learn more today!