March 23, 2017
We have been notified that HB 217 has not been added to the Rules Calendar to be heard for a full vote on the Senate floor.
There are only two days left in the session in which HB 217 can be heard and debated. We certainly expected the bill to make it onto the Rules Calendar today. It is essential that HB 217 keeps moving through the Senate to get back to the version of the bill that passed the House, which we fully support.
Please consider immediately reaching out to the three individuals listed below who can influence HB 217 moving through the Rules Committee.
The message needs to be a very positive one of encouragement asking that HB 217 move through the Rules Committee and be scheduled for a vote on the full Senate Floor.
Senator Jeff Mullis, Chairman of the Senate Rules Committee
(404) 656-0057
jeff.mullis@senate.ga.gov
Senator David Shafer, President Pro Tempore
(404) 656-0048
david.shafer@senate.ga.gov
Lieutenant Governor Casey Cagle
(404) 656-5030
Casey.Cagle@senate.ga.gov
Thank you.
---
March 21, 2017
Yesterday, the Senate Finance Committee took action that could jeopardize the future of Georgia's nationally-respected K-12 tuition tax credit program. They passed an amended version of HB 217, which, inexplicably, would limit the administrative fees SSOs can charge to 3% of contributions. While GOAL charges an average administration fee of 6%, which is less than the law currently allows, a 3% maximum is completely unrealistic and needs to be eliminated in a Senate floor amendment, a vote on which could occur as early as tomorrow.
GOAL runs an efficient program, with lean staffing, but invests the resources to successfully facilitate processes for taxpayer contributors, school communities and scholarship recipient families. Non-profit best practices indicate that administrative fees of 10% or less qualify for a "highly efficient" rating of A+ by CharityWatch, a nonprofit charity watchdog and information service.
Please consider immediately contacting your State Senator and Lieutenant Governor Casey Cagle to express your support for a floor amendment to HB 217 that raises the 3% cap on SSO administrative fees to at least 6%.
If you have a question as to your State Senator, simply enter your address at this website: https://openstates.org/.
Thank you.
---
March 13, 2017
Rep. John Carson's bill to expand the education tax credit program (HB 217) has made it through another essential hurdle, being passed by the Senate Income Tax Subcommittee (of the Senate Finance Committee) late last week.
On Monday, March 20, the full Senate Finance Committee will discuss and vote on HB 217. Following that vote, the bill must pass through the Senate Rules Committee, whereupon the entire Senate will vote on the bill.
Your outreach to your State Senators by phone or email, educating them on the incredible value for Georgia families provided by this program, and informing them of your support for its expansion, could prove to be the essential deciding factor in whether HB 217 becomes law.
The current provisions in HB 217, as passed by the Senate Income Tax Subcommittee, are below – with indicated changes from the prior version of the bill:
Increase the annual cap on education tax credits from $58 million to $65 million in 2018
Include a modest "escalator" (addition to the cap) of 10% per year beginning in 2019, but ending when the cap reaches $100 million
Roll 'expired' credits (those that do not get contributed) into the cap in the very next year, rather than allowing them to be 'wasted'
Set aside a maximum

25%

30%

of the overall cap to be used by C Corporations

Allow the application period to extend for the first 10 business days of the year (rather than only the first day of the year)

This provision has been eliminated.

Require SSOs to disclose administrative fees retained each year
Require SSOs to report the "average scholarship dollar amount by quartile" (in addition to "number of scholarships by quartile")
Thank you for your energy and your efforts. They are invaluable.
---
February 28, 2017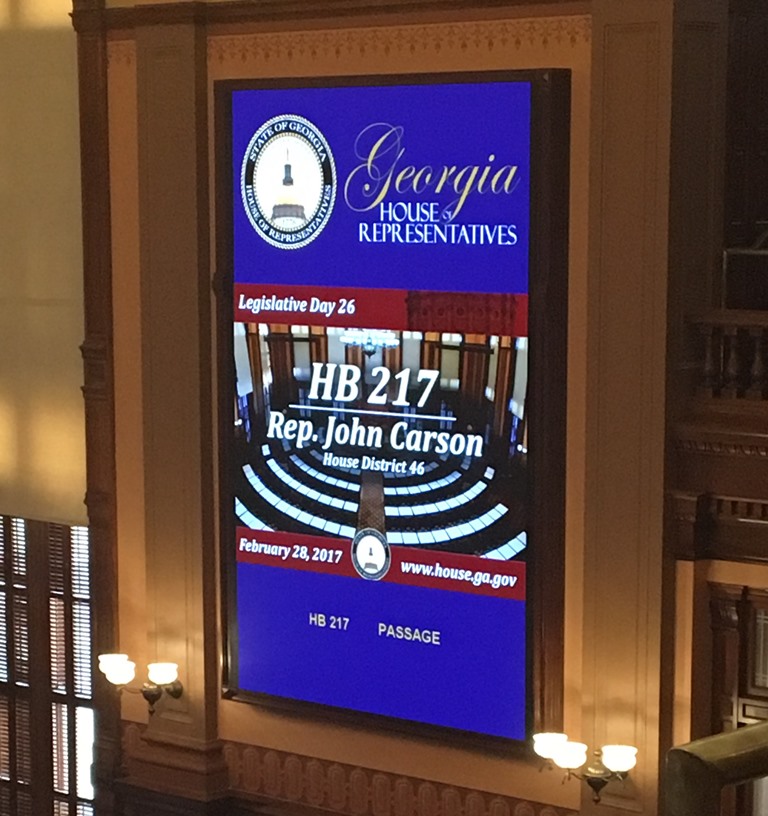 To Supporters of Georgia's Education Tax Credit Program:
Today, HB 217 – the bill to expand Georgia's education tax credit program – passed the Georgia House of Representatives 111-62.
In the debate over the bill on the House floor:
Rep. John Carson (R-Marietta) very effectively presented the bill and handled questions from opposition with deftness.
Rep. Sam Teasley (R-Marietta) presented strong support in the form of questions to Rep. Carson.
Rep. Ed Setzler (R-Acworth) testified to his long-time support for this program and shared stories of its impact among his constituents.
Rep. Valencia Stovall (D-Forest Park) gave an impassioned testimony supporting this bill – and all school choice legislation – as essential to providing Georgia's youth with the opportunities to reach their highest potential.
Rep. Jay Powell (R-Camilla), Chairman of the House Ways and Means Committee, spoke in favor of the bill, citing a recent independent study that the program is actually saving Georgia taxpayers money and referring to the extreme popularity of this "good program."
The Georgia House has overwhelmingly voted in favor of an expansion of Georgia's Tax Credit Scholarship Program, and we are so grateful for this outcome! The next step is the Georgia Senate. Your efforts will continue to be critical to the outcome in that Chamber, as they were in the House.