The Georgia GOAL Scholarship Program, Georgia's largest K-12 student scholarship organization, has published the results from its 2014 GOAL Donor Survey, which was sent to 7,212 donors. The Survey is one of the largest school choice surveys of its type ever conducted in America.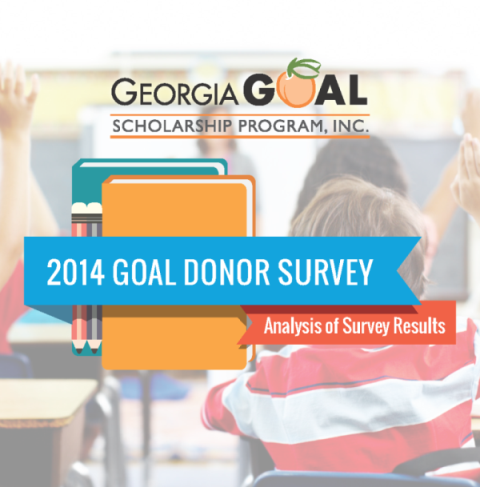 The Survey results, which are based on 2,032 donor responses (an extraordinarily high 29% response rate), include the following key findings:
87% of donors contribute to GOAL because it helps families secure a better education for their children.
83% of donors believe that, by contributing to GOAL, they are helping children access a safer school and classroom environment.
99% of donors want the annual cap on available education expense tax credits to be raised in the event it is reached early in 2015.
83% of donors believe that the government should not impose additional regulations, including educational standards, curriculum, or testing requirements, on private schools participating in the GOAL program.
The survey effort was designed to inform the expected debate during the current session of the Georgia General Assembly over whether to significantly increase the present $58 million cap on tax credits available to donors who contribute to one or more of the 30 student scholarship organizations, or SSOs, that operate in Georgia. In 2013, the tax credit cap was completely consumed by taxpayers on May 9. In 2014, it was consumed by January 22.
On January 1, 2015, taxpayers submitted applications for $91.5 million of state income tax credits for their planned contributions to K-12 student scholarship organizations, well exceeding the $58 million cap on tax credits available in 2015.
GOAL's 2015 "Raise the Cap!" petition drive has netted signatures from more than 16,000 Georgia taxpayers, who are requesting the members Georgia General Assembly to significantly raise the cap, without adding any burdensome or unnecessary amendments. GOAL is in the process of educating lawmakers about the need for a cap increase and the strong support expressed by so many Georgia citizens for an expansion of the program. To this end, GOAL has shared a copy of the Survey results with all state legislators.
In addition to indicating the responses to the Survey questions with which they agreed, the Survey participants also had a chance to comment about why they contribute to GOAL. These comments revealed that donors contribute to GOAL because they believe that they are helping children "to be more successful and productive individuals in our community;" "to be in a motivating environment to learn, push themselves, and succeed;" and "get the encouragement and mentoring needed today so they can realize their potential."